Serge Danielson-François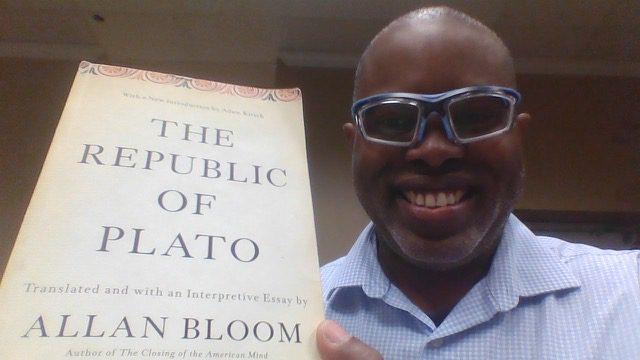 Serge Danielson-François teaches at Divine Child High School here in Dearborn. In addition to having a demanding job, Serge volunteers his time, great ideas, and energy to the Dearborn Library Foundation.
Serge's favorite piece of literature is Allan Bloom's translation of PLATO'S REPUBLIC. Role modeling ambition in educational pursuits, Serge declares, "I have spent the last six months re-reading this classic and leading online classes on its relevance to our historical moment. The rich and complex passages concerning 'The Ring of Gyges,' the 'Allegory of the Cave,' and the 'Myth of Er' all shed new light on contemporary discourse about justice." We can all be proud that the Dearborn Public Library offers over a dozen copies of THE REPUBLIC in multiple formats!
Jennifer Dickey, president of the foundation, quips: "My reading is definitely not in the same intellectual category as Serge's!" Jennifer's observation serves to underline how libraries attend to the broad and diverse interests that represent all members of a community. Therefore, good libraries such as Dearborn's must offer a broad range of materials and services. This Foundation takes pride in trying to enhance the library experience for everyone.
Board of Directors
President - Jennifer Dickey
Vice President - Zacki Khaled
Secretary - Kimberly Roberts
Treasurer - Brian Church
Serge Danielson-Francois
Holly Frank
Anne Gautreau
Suzanne Miller
Kathleen Murray
Margaret Thornburg
President Emeritus - Steven Roberts