Ida Gonzalez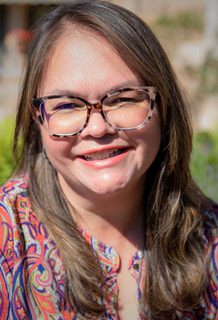 Ida González grew up in Puerto Rico at a time when there was no cable connection and other resources were limited. Happily, during her younger years, she enjoyed books. She recalls fondly that, "There is something about books that soothes us with their peaceful, universal language."
"During my college years, books were a huge part of my life. I spent many hours in libraries reading, researching, and studying. During my career in law, books were my number-one source of reference. I still remember the magic of the Law Library back home!" Ida earned her bachelor's degree in Public Communications. Then she earned a Juris Doctorate degree from the University of Puerto Rico Law School. She practiced law until 2018 when she started her own business. However, she still is currently active and in good standing as an attorney within the jurisdiction of Puerto Rico. She has also worked as a legally certified interpreter of Spanish in the State of Ohio.
She notes, "When we moved to this community in 2015, the Henry Ford Centennial Library became a favorite place to visit for my young sons and me. We enjoyed spending afternoons at the library and participating in the childhood programs they offered. Quiet-peaceful reading time was equally important to us." Now Ida looks forward to serving on the Dearborn Library Foundation and sees it as a way "to give back to this wonderful community."
Unlike the serenity and quietude Ida recalls from her childhood, she notes that today: "We live in a very busy and loud world. We need to preserve and protect this haven of peace and its resources." Since libraries provide the same balm for the soul as Mother Nature does, Ida González believes that it is incumbent upon us to protect them both for future generations. She concludes: "Libraries are an important part of the community. They are the keepers of information access to everyone, beyond age, ethnic background, and education. Libraries continue to be a unique-invaluable resource; so it is very important to support and protect them."
Ida also enjoys volunteering in her church as a youth leader. Clearly, she loves volunteering and serving the community!  Those of us who work on behalf of this Foundation offer her a warm welcome and feel clearly lucky to have her in our corner!
Board of Directors
President - Jennifer Dickey
Vice President - Zacki Khaled
Secretary - Kimberly Roberts
Treasurer - Brian Church
Serge Danielson-Francois
Ida Gonzalez
Anne Gautreau
Valerie Murphy-Goodrich
Kathleen Murray
Margaret Thornburg
President Emeritus - Steven Roberts