Juneteenth Essay Contest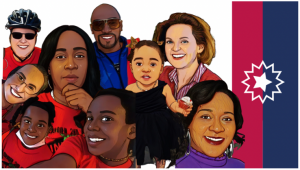 The Dearborn Library Foundation is excited to present the Annual Juneteenth Essay Competition and Scholarship Program.
Our purpose is to provide an enriching composition experience dedicated to the historical significance of Juneteenth.
"Every great dream begins with a dreamer. Always remember, you have within you the strength, the patience, and the passion to reach for the stars to change the world."
–          Harriet Tubman
Juneteenth is a federal holiday that commemorates the emancipation of enslaved African American people in the United States. It is celebrated annually, on June 19th.
On June 19th, 1865 – More than 2 years after President Lincoln signed the Emancipation Proclamation – Enslaved African Americans in Texas finally received word that they were free from bondage. As those who spent their lives enslaved were at last recognized as citizens, Black Americans came to pay homage to Juneteenth with celebrations across the nation.
Contest Rules for Juneteenth Essay Contest for High School Students
Essays can focus on the history, significance, celebration of, or personal experience with Juneteenth
Essays must be no more than 1,000 words in length
Essays must be the original work of the author and must not have been submitted to any other contest
Entries must be submitted by a currently enrolled high school student in Wayne County
Entries must include the author's name, grade level, school, and contact information
Entries should be submitted in an MS Word document or pdf, with all text double-spaced and in 12-point font
Entries must be submitted by the deadline of April 24, 2023, at 11:59 pm
Entries and questions should be emailed to dearbornlibraryfoundation@gmail.com
One grand prize and two runner ups will be selected based on creativity, originality, knowledge of the history/significance of Juneteenth, and overall composition.
Prizes for Juneteenth Essay Winners
Juneteenth essay winners will receive awards that recognize their hard work, creativity, and dedication to the celebration and remembrance of Juneteenth. Winners will receive a scholarship award for educational purposes, a certificate of achievement, and a personalized Juneteenth commemorative trophy. Additionally, the winners will be honored in a ceremony, where their essays will be read aloud, and their accomplishments will be celebrated.
Results will be announced on June 17th, 2023
All decisions are final and are at the discretion of the judge(s)
Board of Directors
President - Brian Church
Vice President - Zacki Khaled
Treasurer - Zacki Khaled
Brianne Goodwin
Erin Snapp
Julia Kapilango
Leslie Windless
Micki Kollman
Valerie Murphy-Goodrich