Laura Geiken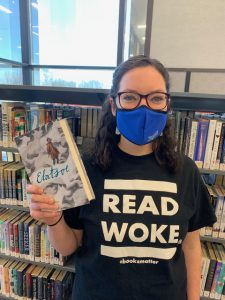 Laura Geiken is from Grand Rapids, where her love of libraries began at the beautiful main branch of the Grand Rapids Public Library. In college, she worked as a page there. That experience led her to her understanding of how important public libraries are to society, especially for lower-income neighborhoods and communities.
Books and databases are important, but libraries also provide computer access, Wi-Fi, a safe and warm environment, entertainment, free educational programs, and fun story times. Those who cannot afford books, computers, preschool for their children, or Internet access to apply for a job, have limited options. Public libraries allow everyone to access services that would otherwise be limited to the wealthy.
Before earning her Master of Library Science degree at Indiana University, Laura served in the Peace Corps in Panama for three years where she worked on a lot of projects, like sexual health, HIV/AIDS prevention education, and teaching English. She feels that her most meaningful work and connections came from reading books on her front porch with neighborhood children. She lived on an indigenous reservation, the Comarca Ngabe-Bugle. Most on the reservation lived in poverty, and picture books were definitely a luxury. Almost no one had books in their home, other than textbooks. Each afternoon, usually while it rained, Laura would read and color with the local kids for about an hour.
Laura Geiken, who now works as a Teen Librarian for Dearborn, is excited about the Read Woke Challenge which encourages community members to read two woke books and then engage in discussion about their themes. Woke books focus on protagonists from underrepresented groups and/ or challenge the status quo. Because books have the power to change minds and offer new ways to understand others and their situations, Laura believes heartily in the importance of this current reading program. She hopes that everyone who participates will question their own preconceived notions. When Laura read Elatsoe by Darcie Little Badger, she reflected on some of her own assumptions about indigenous Americans. Anyone who wants to learn more about the Read Woke Challenge should click here.
Board of Directors
President - Jennifer Dickey
Vice President - Zacki Khaled
Secretary - Kimberly Roberts
Treasurer - Brian Church
Serge Danielson-Francois
Holly Frank
Anne Gautreau
Suzanne Miller
Kathleen Murray
Margaret Thornburg
President Emeritus - Steven Roberts