Patty Podzikowski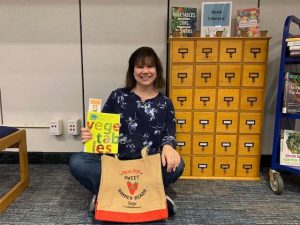 Patty Podzikowski, recently promoted to Administrative Librarian, has worked for the Dearborn Public Library for 21 years. She has been a Children's Librarian, a Cataloging Librarian, and an Adult Services Librarian. She works closely with the public and staff, assists with collection maintenance, programming, and reference work.
Patty grew up in Dearborn. As a child, her favorite place to visit was the Esper Branch Library. Her love for books and reading was cultivated there and has continued to grow throughout her life. One high point was when Patty was offered a job at her beloved Esper Branch Library!
The Seed Library developed a few years ago, is near and dear to Patty. It provides free seeds to the community! The benefits of a Seed Library includes promoting healthy living as well as engaging in a healthy hobby. People utilizing the Seed Library gain knowledge of food origins and enjoy food that they have grown on their own. The Seed Library maintains an ever-changing collection of seeds, based upon donations from the community.
The library has provided programs and special workshops concentrating on seed saving, gardening, and nutrition. When it is safe, such programs will be offered again.
Meanwhile, Patty suggests you check out materials available about seed saving and gardening now. The winter months are perfect to learn and plan your next gardening adventure. Patty encourages everyone to take advantage of the collection.
Board of Directors
President - Jennifer Dickey
Vice President - Zacki Khaled
Secretary - Kimberly Roberts
Treasurer - Brian Church
Serge Danielson-Francois
Holly Frank
Anne Gautreau
Suzanne Miller
Kathleen Murray
Margaret Thornburg
President Emeritus - Steven Roberts